This Holiday is all about finding new traditions and saving money wherever we can. I have completely fallen in love with the idea of doing things myself since our wedding this year. In other words, I love a good money saving DIY! Last week I shared how to make your own photo Christmas card for less. You can check it out by clicking here.
Today I am sharing a few great ideas I have run across in my quest for fabulous do it yourself holiday gifts. I am calling it a DIY Holiday Roundup!
First on the list, these infused, flavored salts made by Glitter it Gold. The maple bacon salt is first on my list to make as a homemade gift! Amanda shares how she made these three different flavors of gourmet salt here!
Next, check out this 1 ingredient crock pot caramel at Boxwood Avenue! Chloe shares how to make this tasty caramel to share with your friends and family. How perfect would this caramel be in a beautiful basket with fresh apples and a holiday candle? Chloe even provides a link to a free download for these darling labels!
I realized everything I was preparing to share with you was edible (I LOVE FOOD!), so I decided to share this blog post from sarahtitus.com where she shares how to make this DIY Bath Fizzy Bombs! How simple is this?!  Go festive, make a peppermint candy cane version!
How about Rosemary Infused Olive Oil?! I love the idea of wrapping a bottle of infused oil with a loaf of bread and a jar of olives. If you are feeling really generous, how about a basket with all of those things and a bottle of wine? Morgan also shares a free printable version of the label she has attached to the bottles of infused oil! Check it out!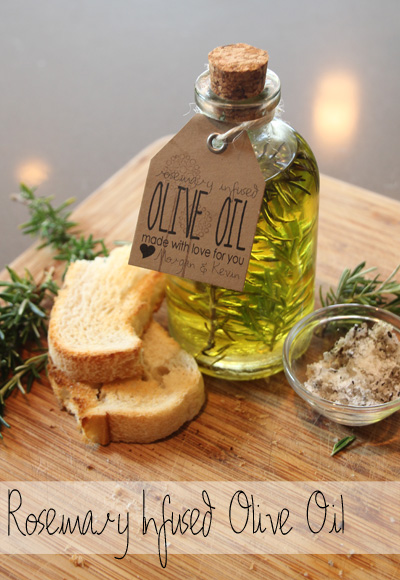 Finally, how about some homemade hot chocolate (recipe here) in a beautifully wrapped jar? I LOVE THIS IDEA! Yes, I am yelling! I just love hot chocolate for Christmas day! Layer a mason jar with homemade hot chocolate mix, marshmallows, chocolate chips, peppermint candy pieces, snowflake sprinkles… the possibilities are endless! Seal the deal by putting bow around the neck of the jar!
So the question is, which one will you make?! If you found this post helpful, would you mind commenting below? As I continue to write and grow my blog, I love feedback on what everyone is enjoying. Thank you for stopping by today!
xo, Anna